Our Team
We are blessed to have a talented, inspired, and experienced staff of a variety of backgrounds, well-suited to meet the needs of persons from all walks of life. All our team members are also full-time volunteers, wholly dedicated to the cause!
Administration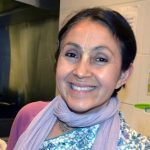 Mother of three and manager of the Bhakti Yoga Institute, Saraswati Devi has been practising bhakti yoga for almost thirty years. Originally from Venezuela, she has also lived in Sweden and India in addition to England. With great practical experience she leads the Institute with a warm hands-on and dynamic approach.
Although one of our youngest members, Ramananda is one of the most qualified and is currently serving as the assistant manager. Originally from Latvia, Ramananda has been with us about six years now and is known for his sensitivity and humble nature.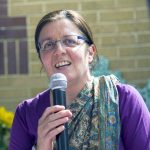 Born and raised in England, Lavanya Devi is one of our senior advisors and has been serving full-time in bhakti yoga for over twenty years. Mainly responsible for the fundraising side of things, she is also attentive to and selflessly on call for every aspect of the Institute's running.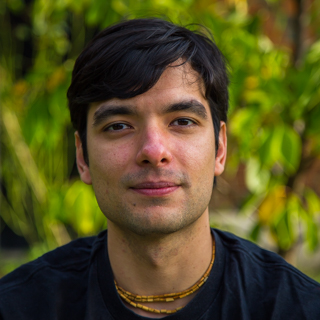 Mahadev was born and raised in Venezuela within a family of bhakti-yoga practitioners. He is the Art Director at the BYI and has an award-winning background in design and photography. Using various disciplines, he has spearheaded and applied his expertise to direct most of the BYI's visual projects being also our in-house photographer and designer.
Some of our regular instructors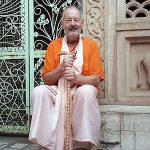 Originally from the USA, Swami B.V. Nyasi has also lived in England and spent extensive periods in India. With almost fifty years experience in bhakti yoga and having raised a devoted family in the teachings, he has a great wealth of experience to share and unique warmth in his approach.
Swami B.K. Tyagi joined our bhakti yoga community in USA and later spent over five years living at our centre in West Bengal, India. Today he travels worldwide sharing the teachings of bhakti and is known for his fresh, modern approach andyouthful enthusiasm.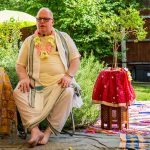 Born and raised in England, Devashis came in touch with the bhakti tradition from a young age and has been practising for over forty years. The secretary of our English mission, Devashis is known for his profound and eloquent explanations of bhakti principles.
Of African-American and English descent, Vishakha Devi was born to a family of bhakti-yoga practitioners and has been travelling the world since her childhood. Having lived for ten years in India, she is now based at our centre in London and shares the wealth she has gained through her valuable life-experience.
Originally from Holland, Sachi Devi has been practising bhakti yoga for over thirty years. She has been living in England full-time devoted to our bhakti yoga mission for over twenty years and is known for her patience, compassion, and motherly affection for all.