… every unit is a dedicating member in an organic whole. In such a normal adjustment, everyone mutually assists one another in their service to the centre, the higher recipient, the highest entity.
Making a positive contribution to our local, extended, and global community is at the heart of our ethos at the Bhakti Yoga institute.
We thus offer a number of services which are freely available for all who come to us.
Free Education
Aside from regular classes on the teachings and practices of bhakti yoga, when possible we also offer courses on cooking, musical training, gardening, and languages.


Free Hot Meals
Under the banner of our registered charity 'Feed Them All' we offer hot, freshly-made and nutritious meals on a weekly basis to people in need, and on a daily basis to whoever comes to our door at the Bhakti Yoga Institute - please inform us a day in advance if you like to pick up a packed lunch. Whenever possible we do special events such as Christmas dinners. For more information visit our website: feedthemall.co.uk
Free Informal Counselling
We do our best to facilitate the mental, emotional, and spiritual health of those who come to us, and to this end our experienced staff are always available for informal counselling and guidance for those in need. We want everyone to feel that they are heard and understood; we want everyone to feel a sense of belonging and community and we do our best to provide that to all. We believe that given the right opportunities and right guidance, everyone has a bright future ahead of them, no matter what difficulties they may be facing at present.
Free Youth Activities
The youth of today are the leaders of tomorrow and we put great emphasis on their nourishment and education. We hold discussion, kirtan, arts and crafts and other activities with our youth on a weekly basis, and throughout the year also hold special events dedicated to them.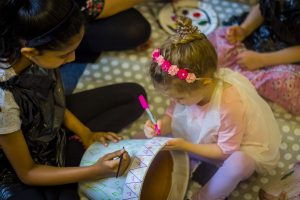 It's also been our privilege to work with the government-funded initiative NCS (National Citizen Service) for over four years now. Twice a year the organisation sends us groups of teenagers who come to hear about our beliefs and activities and get involved.